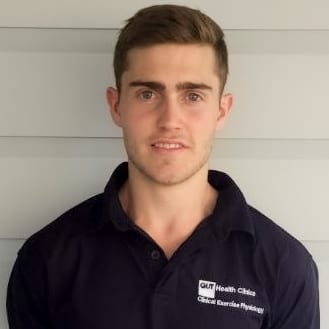 Jeremy Wright sees patients in:
Ipswich
Ipswich
1/10 Churchill Street, Ipswich QLD 4305
Opening hours
Open Today 09:00 - 16:00
Mon: 08:00 - 17:30
Tue: 08:00 - 17:30
Wed: 08:00 - 17:30
Thu: 08:00 - 17:30
Fri: 08:00 - 17:00
Sat: CLOSED
Sun: 08:00 - 14:00
Jeremy Wright
Jeremy graduated with a Bachelor of Clinical Exercise Physiology from the Queensland University of Technology in 2017. He has experience in exercise prescription for a range of clinical conditions, however holds a special interest in both musculoskeletal rehabilitation and cancer care. Coming from a sporting background, Jeremy was always intrigued by how the human body changes and adapts to specific types of exercise, an interest which ultimately led him to the field of Exercise Physiology. Jeremy believes that every client should be treated individually to their situation, using the latest evidence, to deliver an exercise therapy or rehabilitation plan that provides the highest quality care.
A firm believer in practicing what you preach, Jeremy enjoys attending the gym, playing touch footy and watching rugby league whenever possible.