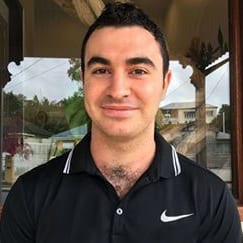 Jordan Lambi sees patients in:
Ipswich
Ipswich
1/10 Churchill Street, Ipswich QLD 4305
Opening hours
Open Today 09:00 - 16:00
Mon: 08:00 - 17:30
Tue: 08:00 - 17:30
Wed: 08:00 - 17:30
Thu: 08:00 - 17:30
Fri: 08:00 - 17:00
Sat: CLOSED
Sun: 08:00 - 14:00
Jordan Lambi
Jordan graduated from the University of Queensland with a Master of Dietetics and Bachelor of Exercise and Nutrition Sciences. During Jordan's university studies he developed a keen interest in advocating for the health and wellbeing of more vulnerable populations through food and nutrition.
While working at the Head and Neck Cancer Radiation Oncology Outpatient Clinic at the Princess Alexandra Hospital, Jordan experienced just how significant nutrition was on treatment outcomes and quality of life. It was at this time Jordan established his passion for improving nutrition in people with cancer, and utilising nutrition to enhance treatment outcomes. Another area of interest to Jordan is the role and importance of food and nutrition in mental health and wellbeing.
Jordan's experience includes consultations in private practice, acute care at the Princess Alexandra Hospital, corporate health and wellbeing with the Easternwell Oil and Gas company and elite sports nutrition with the Brisbane Broncos.
Personally, Jordan is a big fan of sports. Having played semi-professionally in the National Premier League for Western Pride Football Club, Jordan appreciates the immense significance food and nutrition has on mental and physical performance in the sports setting. Jordan utilised this deeper understanding of sports nutrition during his time as a nutritionist for the Wynnum- Manly Seagulls Rugby League Football Club.
When it comes to dietetics, Jordan is an advocate for the wholefoods approach more so than prescribing dietary supplements. Jordan is passionate about helping people with their health and improved performance through whole foods as much as possible.