Cosmetic mole & skin tag removal – NO stitches & No Scar!
Have you got a mole or spot that you want removed but concerned it will leave a nasty mark? You don't need to see a plastic surgeon or dermatologist to have it removed – just visit Dr Scott Horsburgh at SmartClinics Annerley Family Medical Centre today. The Clinic is located at 548 Ipswich Road, Annerley.  Ph: (07) 3848 9299
We asked Dr Horsburgh some common questions about the procedure. Read his answers below to find out if laser is the best option for you…
How is the mole removed? Is it safe?
"I use a state-of-the-art radio-frequency machine called Pelleve. The device essentially vapourises the moles off the skin rather than having to cut into the skin. There is no risk to the patient or nasty side effects."
Will there be a scar? Can you remove moles and lumps from my face?
"The beauty of this machine is that it hardly leaves any visible scarring. Once completely healed, the skin where the mole used to be is smooth with the rest of the skin but may be a slightly lighter shade in colour. It's fine to use on any area of the body.  It's far superior to other procedures that can leave raised skin scars, pink scarring or scars that are larger than the original mole was itself."
BEFORE & AFTER: Facial mole on patient's right cheek. 2 weeks following laser removal.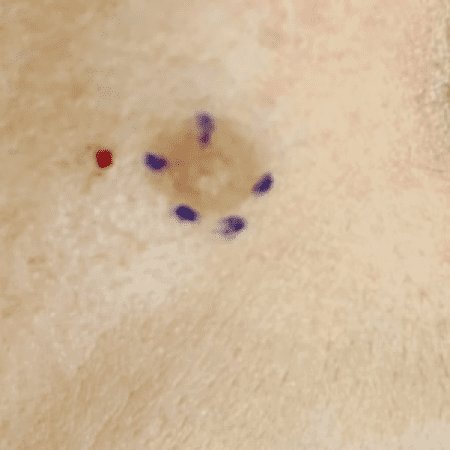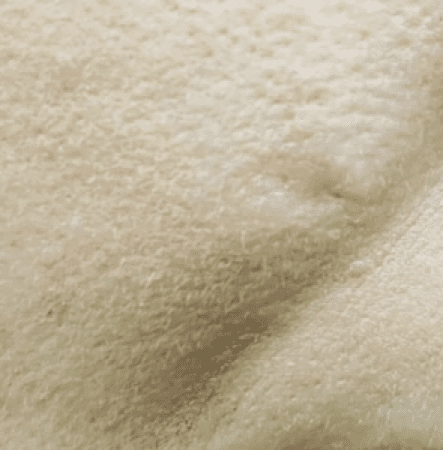 BEFORE & AFTER: Facial lump on nose and 3 weeks following laser removal.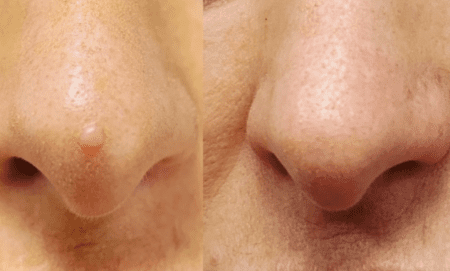 Will I have bandages or stitches? Can I go back to work after the procedure and can I still play sport and shower?
"There is no need for stitches. The assisting nurse will cover your wound with a band aide which can be removed the following day. You can go back to work, exercise and shower as normal."
Can any GP perform this procedure?
"Most medical centres will not have a Pelleve machine as it's not standard medical equipment. Only GPs with specialised training on the Pelleve machine can perform this procedure. I'm currently the only GP at SmartClinics Annerley who offers this procedure."
Will I need a referral? Is there a long waiting time?
"No. You just need to book a long appointment for mole removal with me as the procedure often takes around 30 minutes depending on the number of moles being removed."
Does it hurt?
"I will use a local antiseptic injection in the skin surrounding your mole to numb the area. This stings a little bit, but you won't feel a thing while the mole is being removed. Even after the mole is removed, most patients don't experience pain during the healing period."
How long does it take to heal?
"Usually a small scab appears where the mole was removed, and it can take around 2 weeks to heal completely."
How much does it cost?  Does it cost extra to get multiple moles removed at the same appointment?
 "Prices start from $250. I will need to assess your skin before I can provide you with a price as some of your moles or spots may not be suitable for the procedure."
Is it safe to use on moles that could be cancerous?
"No. All moles need to be examined by a trained skin cancer doctor prior to removal. I can do this on the same day as your procedure so you do not need to book twice."                                                                                                                        
HOW TO BOOK WITH DR HORSBURGH:
Call the clinic directly on (07) 3848 9299 or BOOK ONLINE
SmartClinics Annerley is located at 548 Ipswich Rd. Click here for opening times and more information about this Family Medical Centre.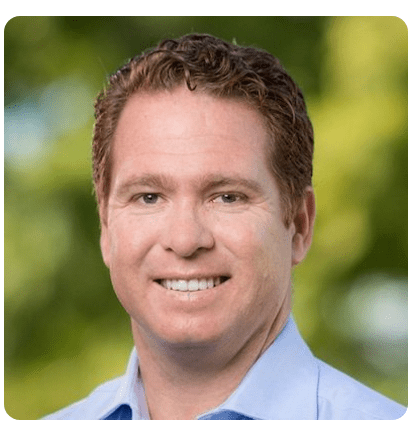 Dr Scott Horsburgh
Dr Horsburgh is a caring and trusted General Practitioner with over 10 years' experience. For the last three years, Dr Horsburgh has worked at SmartClinics Annerley (previously Annerley Medical Centre). Prior to that Scott worked in Emergency Medicine in multiple locations across Queensland. Dr Horsburgh is married with three young children. He enjoys cycling, running, sailing, and playing rugby. He is also a Junior Rugby Coach and likes reading in his spare time.