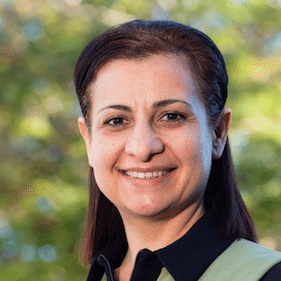 Dr Janan Al Bahadly sees patients in:
Chermside
Chermside
Westfield Chermside
Shop 212 Cnr Hamilton & Gympie Rd
Opening hours
Open Today 07:00 - 21:30
Mon: 07:00 - 21:30
Tue: 07:00 - 21:30
Wed: 07:00 - 21:30
Thu: 07:00 - 21:30
Fri: 07:00 - 21:30
Sat: 07:00 - 21:30
Sun: 07:00 - 21:30
Dr Janan Al Bahadly
Janan joined Smart Clinics in 2016 and brought with her a wealth of medical knowledge having worked in many hospitals in Western Australia for over 10 years. To fulfill her dream of becoming a GP she joined RACGP in Queensland and worked in Gladstone for 3 years before moving to Brisbane, a city she has been proud to call home since 2016.
Her qualifications are MBCHB in medicine and surgery, fellow of RACGP and Diploma in Child Health from Westmead hospital in Sydney. She is constantly committed to update her skills as medicine always evolves. Janan's broad medical skills are complimented by her excellent communication and listening skills which are appreciated by her patients. She always puts patients first and is dedicated to ensuring that their experience is the best it can be.
Janan loves working as a GP and feels privileged to help people and be part of their life journey. As a daughter, sister, wife and mother of two children she appreciates how important it is to find the right family doctor who is willing to take a holistic approach to health and also knows that balancing work and family is important. So as much as she is available as a full time GP, she makes sure she enjoys time with her family and kids on the weekends and loves nature walking, travelling, and gardening.
Janan's special interests are but not limited to:
**Women's health (family planning and antenatal care, Implanon insertion and removal, Mirena removal, Pap smears and more)
**Child health and vaccinations
**Mental health
**Chronic disease management (diabetes, high blood pressure, heart conditions, arthritis and care plans arrangements)
**Travel advice and vaccinations
**Skin checks and excisions, minor procedures (except scalp and face)
**Work injuries
**Iron infusions
**Occupational health
**Geriatric medicine
**Asthma care, asthma action plan
** Healthy heart check
**Driving medical
** Pre-employment medical