Our Clinics
SmartClinics Chermside Family Medical Centre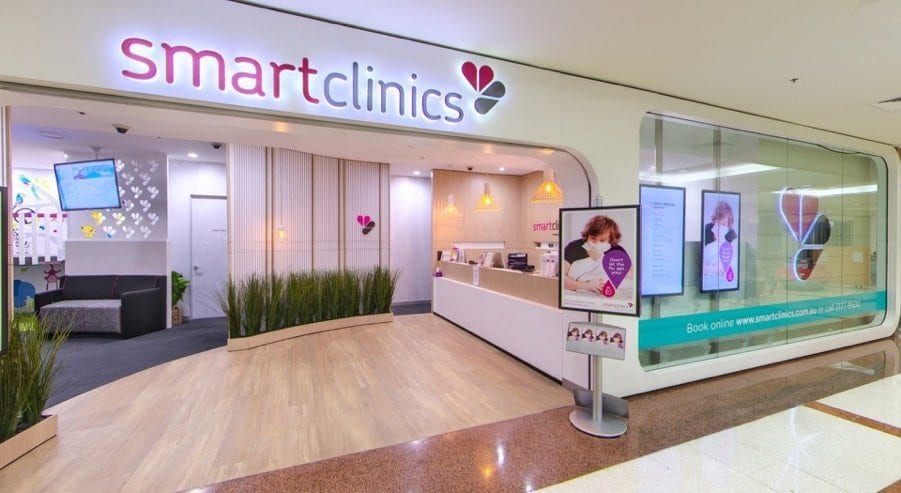 Standard Opening hours
Mon: 07:00 - 21:30
Tue: 07:00 - 21:30
Wed: 07:00 - 21:30
Thu: 07:00 - 21:30
Fri: 07:00 - 21:30
Sat: 07:00 - 21:30
Sun: 07:00 - 21:30
See below for updates to clinics hours & public hoilday trading.
Clinics nearby
Billing Policy & Fees
The GPs at this practice operate Mixed Billing, and a fee is payable on the day for most consultations, including telehealth.
Standard consultation fee is $90 for appointments during working hours (Monday to Friday 8:00am-5:00pm)
Consultations before 8:00am and after 5:00pm Monday to Friday and all weekend appointments will be charged as an afterhours consultation: $120 appointment fee.
Masks
We encourage you to wear a mask inside our practice. If you have cold or flu symptoms, please book a telehealth appointment.
Flu Vaccines
2023 Flu shots at this clinic are available for $20. Call to book or click here for more information.
We are located inside Westfield Chermside. For your convenience, our Chermside Medical Centre is open late 7 days so you can see a GP after hours when you need to. If you require a late night or weekend appointment, the experienced Medical Team is here to help, 364 days per year.  You can book your appointments at any time of day through our online booking system. Simply click the pink booking button, then select the locations and appointment time that suits you most.
Information for patients
Read below for information regarding fees, services and appointments or click here to download our patient information flyer.
Fees
We are a mixed billing practice. Fees are available at Reception.
Services
Accident & emergency treatment
Antenatal and post- natal care of mother
Asthma assessment & management
Child & adolescent health
Diabetes assessment & management
Drivers licence medicals
Elderly Care
Family medicine – general practice
Immunisations
IUD for Birth Control
Men's health
Minor surgical procedures
Occupational Medicine
Pre-employment medicals
Quit smoking programs
Sexual counselling
Skin cancer checks & treatment
Sports Medicine
Travel medicine – including Yellow Fever vaccinations
Women's health
Workplace Health & Rehabilitation
Recalls and reminders
It is best practice to operate a recall system for abnormal results for pathology, radiology or specialist. Your local SmartClinics has a recall system in place and we ask for your understanding and acceptance of this policy. If necessary, you will be contacted by one of the Doctors, Nursing Sisters or Receptionists – by letter, phone or SMS – usually to make an appointment concerning these results.
Release of records
Records will be released after receiving signed consent from the patient. A full set of records do possess an administration fee. There are no charges for a Health Summary however if you are requesting access to additional information
where the volume of information we hold is large, we may charge a reasonable administration fee (including fees for photocopying)
.
After Hours Doctor Appointments
SmartClinics Chermside offers after hours doctor appointments. We are open late 7 days a week for 364 days a year. We understand that medical issues can arise at any time of day and that it's not always easy to put things off. We've adjusted our hours to be more accommodating to our patients, so if you need a late night doctor we're here for you. If you'd like to book an after hours doctor appointment, please visit our booking portal.
Consultations before 8:00am and after 5:00pm Monday to Friday and all weekend appointments will be charged as an afterhours consultation: $120 appointment fee.
Please note: Out of pocket costs may apply to consultations for any costs associated with private vaccines and procedures (Inc dressings).