Our Clinics
SmartClinics Deception Bay Medical Centre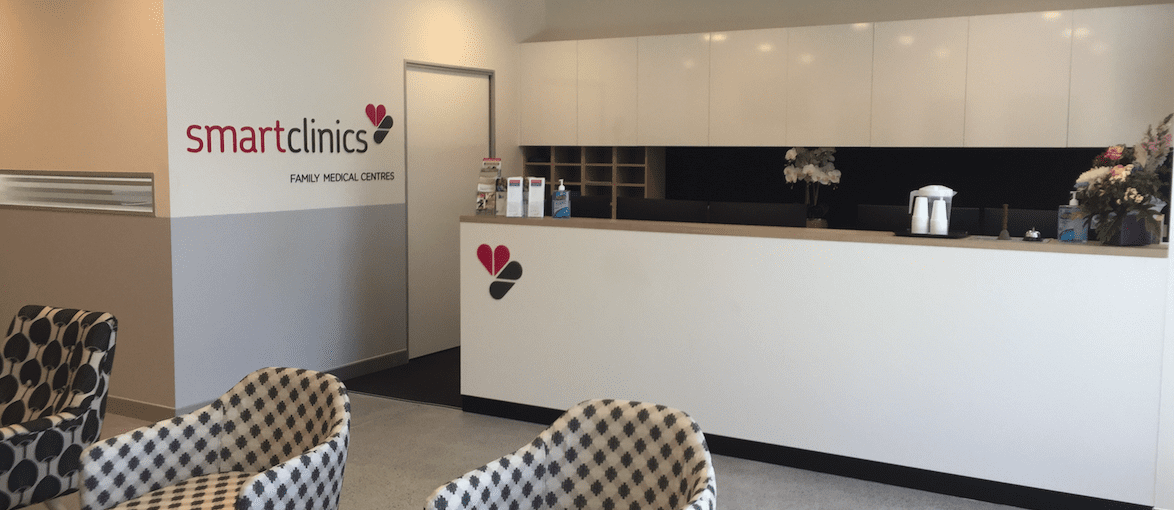 Opening hours
Open Today 08:30
-
17:30
Mon: 08:30 - 21:00
Tue: 08:30 - 21:00
Wed: 08:30 - 17:30
Thu: 08:30 - 21:00
Fri: CLOSED
Sat: 08:00 - 16:00
Sun: CLOSED
COVID Vaccines are available.  Appointments are only available via phone, and due to limited supply, we will not be offering a wait list – so please be patient.
Telehealth is available to current patients only. All bulk billing will be at the discretion of the Doctor and private consultation fee's will be implemented as usual at this practice.
If you are unwell, please do not attend the clinic – instead go directly to a COVID testing facility or your local emergency department.
Find your nearest testing and fever clinic here.
Clinics nearby
WELCOME TO OUR FAMILY MEDICAL CENTRE
We are now in our brand new custom designed clinic near Snap Fitness in Market Square Shopping Centre – only a short walk from our current clinic location.
Originally know as Moreton & Deception Bay Medical Centres, we are a family oriented practice with the goal to provide the best possible care within our capability. Our medical centre has caring and professional GPs, Nurses, Medical Receptionists and Allied Health Services such as Podiatry, Nutrition and Dietetics and Excise Physiology.
Our GPs cover a broad range of services and interests including Paediatrics, Skin Checks, Ear/Nose and Throat, Mental Health, Spirometry, ECG's, Audiometry, Workcover, DVA, Antenatal Share Care, Dressings and Wound Care, Diabetes, Asthma, Weight Loss, Assistance to Quit Smoking and many more.
MEDICAL SERVICES
At SmartClinics Deception Bay we aim to provide our patients with comprehensive, coordinated care.  We have an extensive range of integrated services and facilities, meaning that a large part of your healthcare needs can be met in our facility.  As well as routine consultations, the following services are available:
Paediatrics
Skin Checks
Ear/Nose and Throat
Mental Health
Spirometry
ECG's
Audiometry
Workcover
DVA
Antenatal Share Care
Dressings and Wound Care
Diabetes
Asthma
Weight Loss
Assistance to Quit Smoking
Skin Checks
The Queensland sun can be brutal on your skin. Australia has the highest incidence rate of melanoma in the world, despite extensive campaigning to improve awareness of skin health and the damage that the sun can cause.
We conduct skin checks for patients to help identify melanoma and other skin cancers at a relatively early stage. By coming in for a regular skin check (approximately once per year is recommended), you can get an idea of the natural state of your skin and monitor any changes in spots over time. This is a key part of ensuring you can identify potential skin cancers early and get treatment started.
Audiometry
Audiometry evaluation is a straightforward procedure to measure your hearing capacity across a range of sounds, frequencies and pitches. During an audiometry test you'll be in a soundproof room wearing a pair of headphones. We'll play a range of tones through the headphones, sometimes in both, sometimes just into a single ear. We'll ask you to indicate when you can hear the tone and which ear you hear it in.
If you've been referred for an audiometry evaluation or simply require one to get a clear idea of the level of your hearing loss, chat to us about scheduling an appointment.
Diabetes
Diabetes affects approximately 1.7 million Australians. An accurate diagnosis early in the illness is critical to establishing an effective management plan and ensuring that life can go on relatively normally. Our doctors in Deception Bay are broadly experienced in identifying, diagnosing and treating diabetes in patients from a variety of backgrounds and with a range of associated health issues.
Complications from diabetes can be devastating. Blindness, loss of limbs and heart disease can all result directly from diabetes. Adequate treatment is the key to managing diabetes, although like many illnesses, prevention is more effective than a cure. Most of our diabetes treatment regimens are targeted at controlling blood sugar levels, although we may also recommend exercise and other lifestyle changes to help you manage your diabetes without medication.
Asthma
As many as 2.7 million Australians suffer from asthma. We've helped hundreds of Deception Bay locals tackle their problems with asthma and develop effective treatment methods. The key to treating any form of understanding lies in tracking symptoms and gaining a very clear picture of what triggers your asthma, whether it's a time of day or particular environmental factors.
With a clear picture of the causes of your asthma we can recommend treatments that will help reduce the triggers of asthma attacks and return some normality to your life. Our treatment methods may require a spirometry test at the start of your treatment plan, different medications and lifestyle and dietary changes.
Weight Loss
Over a quarter of the Australian adult population is obese. Australia is facing an epidemic of obesity unlike any societal health challenge faced in history. If you are overweight or obese, please speak with us about a weight loss plan. Living life at a healthy weight will help you avoid a huge range of health complications.
Our Deception Bay doctors have helped dozens of patients suffering from obesity. Basic plans such as reducing the consumption of certain food items or introducing a marginal amount of exercise into daily routines can really help address weight problems. It all starts with a plan.