SmartClinics Pullenvale Family Medical Centre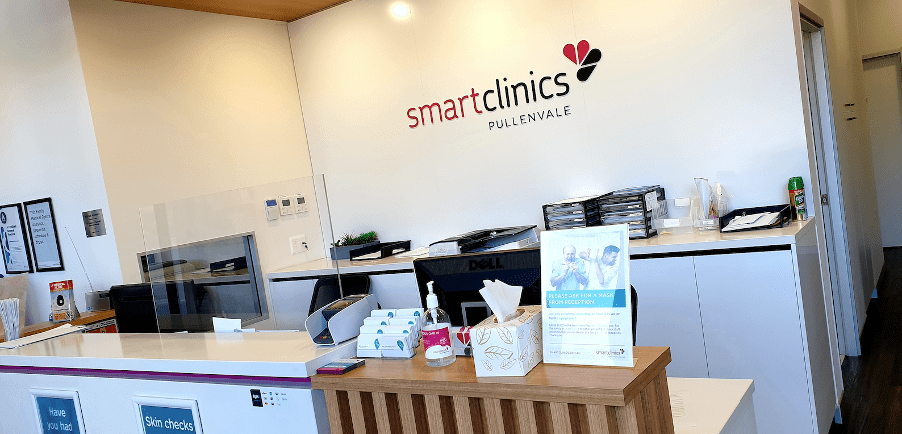 Opening hours
Open Today 09:00
-
14:00
Mon: 07:00 - 19:00
Tue: 07:15 - 18:00
Wed: 07:00 - 18:00
Thu: 07:00 - 15:00
Fri: 07:00 - 17:00
Sat: 09:00 - 14:00
Sun: 09:00 - 14:00
Hi, this SmartClinics Medical Centre will NOT be providing COVID-19 Vaccines for Phase 1B. If you wish to book a COVID 19 Vaccine, first visit healthdirect.gov.au to check your eligibility. If you are eligible you will be directed to the Vaccine Clinic Finder to help you find a suitable vaccine clinic near you.
We cannot book COVID-19 vaccines for you. Thank you.
NOW OPEN 7 DAYS
ATTENTION ALL PATIENTS:
Where possible, we advise that only patients being seen by the Doctor attend the clinic.
If you have cold or flu symptoms, please call the clinic and book a suitable appointment.
Telehealth is available to current patients only.  All bulk billing will be at the discretion of the Doctor and private consultation fee's will be implemented as usual at this practice. If a consult fee applies, you will receive the relevant Medicare Rebates.
Clinics nearby
SmartClinics Pullenvale Fees.
Telehealth Appointments will be Bulk billed for patients who are:
Current Commonwealth concession card holder;
Children under 16 years;
Patients who are more vulnerable to COVID-19 – defined by:
is required to self-isolate or self-quarantine in accordance with guidance issued by the Australian Health Protection Principal Committee in relation to COVID-19; or
is at least 70 years old; or
if the person identifies as being of Aboriginal or Torres Strait Islander descent—is at least 50 years old; or
is pregnant; or
is the parent of a child aged under 12 months; or
is being treated for a chronic health condition; or
is immune compromised; or
meets the current national triage protocol criteria for suspected COVID-19 infection.
All other patients:

Telehealth – standard consult $75
Telehealth – long consult $115
In-Clinic Appointments
Bulk-billing is available for patients who are:

DVA Gold Card holders?
Students
Over 70 years
children under 17 years
 pensioners and concession card holders?

All other patients: This is a private/bulk billing practice. A consultation fee may apply for Consultation at the discretion of your Doctor.
Services
Our Pullenvale Family Doctors offer health services for the entire family, from men's health, to women's health, elderly services and children's health. We can also provide vaccinations, immunisations, skin checks, health assessments and minor surgery.
Dr Nany Momoff also offers a range of cosmetic services including anti-wrinkle injections and chemical peels.
Appointments
A standard appointment is usually adequate to deal with most health issues. If you are making an appointment for an insurance or employment medical, procedure or complex/multiple problems, please ask for a longer appointment. Please ensure a separate appointment is made for each family member.