Our Clinics
SmartClinics Toowong Family Medical Centre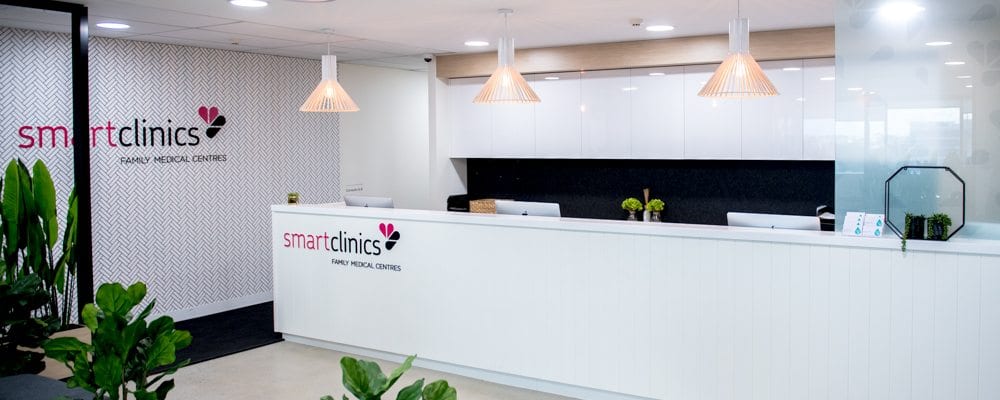 Opening hours
Open Today 08:00
-
17:00
Mon: 07:30 - 17:00
Tue: 08:00 - 17:00
Wed: 08:00 - 17:00
Thu: 08:00 - 17:00
Fri: 08:00 - 17:00
Sat: 08:30 - 12:00
Sun: Closed
---
From June 1st 2022, Dr Lewindon will be privately billing all her patients.  Centrelink Healthcare and Aged Pension Card holders, Chidren 16 years & under along with Gold & White DVA patients will continue to be bulked billed.  A script and referral fee of $50 per request will apply for ALL patients.
Please note:  A fee of $50 may apply for patients who fail to attend their appointments.
MASKS ARE MANDATORY AT ALL CLINIC VISITS
If you are unwell, please go directly to a COVID testing facility or your local emergency department.
Find your nearest testing and fever clinic here.
Clinics nearby
SmartClinics Toowong Family Doctors welcome new patients
Welcome to our custom designed clinic at 39 Sherwood Road.  Catch the lift up to level 10 and enjoy our fresh and modern waiting area, and comfortable and private Doctors' consultation rooms.
Our Services
At our medical centre, we specialise in a wide range of general medical services including:
Preventative advice for heart disease and diabetes
Chronic disease management
Seniors' health advice
Children's health
Women's health
Men's health
General check-ups
Vaccinations
Travel medicine including Yellow Fever
Workplace and occupational healthcare
Treatment of skin cancers and sunspots
Please note that bookings for Thyroid Conditions, Male/Female Hormone Conditions, Chronic Fatigue, Skin Checks/procedures and Pap Smear Tests all require a longer appointment so we ask that you please call the clinic reception to make a booking rather than booking online.
Our team also offers lifestyle profiles and advice regarding fitness and nutrition, so contact us if you'd like to improve your everyday wellness. We'll be happy to help you on the path to better health.
Consultations at SmartClinics Family Medical Centre Toowong
If you seek a medical consultation with one of our doctors at Toowong Medical Centre, please don't hesitate to get in touch with us. Most consultations take about 15 minutes but if you feel that you may need longer for the doctor to deal with your particular health problem, then please let the receptionist know when you're booking your appointment.
When booking your appointment, you'll be offered the next available time to see either your regular doctor or one of our other practice doctors. You will need an appointment with your doctor for new consultations and also for repeat prescriptions, specialist referrals and for receiving test results.
For bookings call (07) 3371 5666 or click here!
Our fax number is (07) 3371 3299
After hours care
In a medical emergency, your best course of action is to head to the emergency department of your nearest hospital, which could be your closest public hospital or the Wesley Private Hospital in Auchenflower.  An ambulance can be called by dialling 000.
If you need to see a GP for a non-urgent medical appointment, SmartClinics Chermside and Annerley clinics both offer late night GP appointments.
Fees
SmartClinics Toowong is a private billing clinic and fees apply to all consultations.   Bulk billing is available between Monday and Friday for the following patients:
Centrelink Card holders
Current Commonwealth concession card holder INCLUDING DVA Gold Card holders
Children under 16 years
Private billing fees apply to ALL patients on Saturdays. Fees: Standard appointment $85.00, Long appointment $140.00.
Hot Doc payments do attract a minimal transaction fee of 2.75% + 30c per transaction. This charge includes the Stripe or Pin Payments fees.
Please note:  Additional fees may apply for non-Medicare rebate items.  The bulk billing of patients is always at the discretion of each individual doctor.
Telehealth
Telehealth Appointments will be Bulk billed for patients who are:
Centrelink Card holders
Current Commonwealth concession card holder INCLUDING DVA Gold Card holders
Children under 16 years
Patients who are more vulnerable to COVID-19 – defined by:
is required to self-isolate or self-quarantine in accordance with guidance issued by the Australian Health Protection Principal Committee in relation to COVID-19; or
is at least 70 years old; or
if the person identifies as being of Aboriginal or Torres Strait Islander descent—is at least 50 years old; or
is pregnant; or
is the parent of a child aged under 12 months; or
is being treated for a chronic health condition; or
is immune compromised; or
meets the current national triage protocol criteria for suspected COVID-19 infection.
Telehealth fees for other patients:
standard consult – $85.00
long consult – $140.00
In Clinic Appointments:-
Additional Services
Cannabidiol (CBD) Oil – $300 (Medicare rebate $111.50)
Thyroid / Hormone Therapy – $300 (Medicare rebate $111.50)
Iron Infusion – $280 (Medicare rebate $111.50)
Iron Infusion (Concession) – $190 (Medicare rebate $111.50)
Menopause management – $150 (Medicare rebate $75.75)
Results
Results are only given to patients during a medical consultation with their doctor. Your doctor will advise you to make a further appointment at the time of the consultation when the particular tests are ordered.
To book a medical consultation with SmartClinics Toowong, please click here!
Inclusivity
We take pride in offering inclusive, confidential, safe and patient-centred care. At SmartClinics Toowong, we welcome, accept, acknowledge, foster, embrace, promote, and celebrate our diversity. We strive to provide non-judgemental high-quality healthcare to our community without fear of discrimination, prejudice and stigma.
SmartClinics Toowong acknowledges the Yuggerra people, Traditional Owners and Custodians of the land on which we are gathered. We pay our respect to their Elders, past, present, and emerging, and to all Aboriginal and Torres Strait Islander Elders of other communities throughout Australia and their connections to land, sea and community.