Our Clinics
SmartClinics Smithfield Family Medical Centre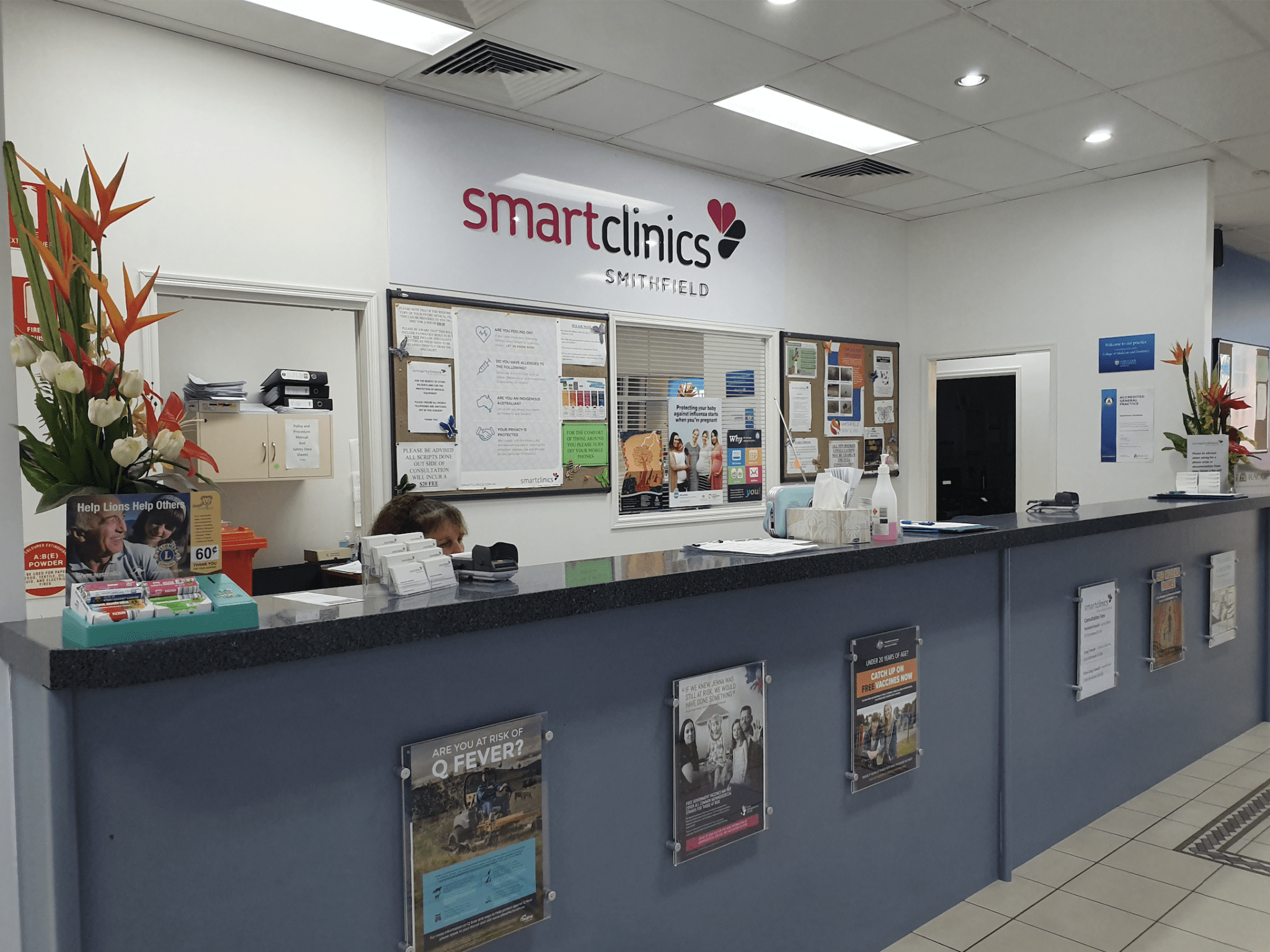 Opening hours
Open Today 08:00
-
17:00
Mon: 08:00 - 17:00
Tue: 08:00 - 17:00
Wed: 08:00 - 17:00
Thu: 08:00 - 17:00
Fri: 08:00 - 17:00
Sat:
Sun:
This SmartClinics Medical Centre will not be providing COVID vaccines.
---
If you are attending the practice for any of the following reasons, it is essential that you book in with your regular GP at the clinic. This is because the treating GP needs a full understanding of your medical history to be able to assist you.
MEDICO LEGAL FORMS
INSURANCE FORMS
DVA FORMS
GP CARE PLANS
MENTAL HEALTH CARE PLANS
---
AFTER HOURS SERVICE
For emergencies outside clinic opening hours please always call 000.  For all other non-urgent matters please call House Call Doctor on 13 55 66.
Clinics nearby
Welcome to SmartClinics Smithfield Medical Centre
We are located in the Campus Shopping Village, Smithfield. Our team have a deep understanding of the specific needs of families within the community of Cairns. They have been providing care in the Far North region for more than 20 years, giving you the reassurance and peace of mind that you desire when seeking professional medical advice.
We believe in providing quality care that focuses on patient's mental health, physical health and overall wellbeing whilst maintaining a professional level of confidentiality. Our Doctors treat each patient with a high level of professional and personal care and are proud to be recognised through AGPAL – Australian General Practice Accreditation Limited.
Our premises is fully wheelchair accessible and has ample parking.
Our Services
Family Planning advice
Employment Medicals
Antenatal Care
PAP nurse clinics
Minor surgical procedures
Molemax scanning for skin cancer (phone bookings only)
Travel vaccinations
Chronic disease Management
Mental Health care plans
Mental Health nurse counselling
Skin cancer treatment
Consultation Fees
From  1 August 2022, SmartClinics Smithfield will be implementing a small fee increase to ensure we continue to provide high-quality health care to our local community. View the new fee list here (applies to appointments from 1 August 2022).
Until then, the following fees will apply:
---
Standard consultation fee – $80 (Item 23 – level B)
23 Medicare Rebate now $39.10 (out of pocket $40.90 or discount out of pocket $30.90)
---
Longer consultation fee – $115 (Item 36, Level C)
Medicare Rebate now $75.75 (out of pocket $39.25 or discount out of pocket $29.25)
---
Longer consultation fee – $148 (Item 44, Level D)
Medicare Rebate now $111.50 (out of pocket $36.50 or discount out of pocket $26.50)
---
Rebates can be claimed immediately with our online link with Medicare.
Your refund is deposited directly to your Eftpos card or bank account. All Aged Pensioners are Bulk Billed. All Children under 16 are Bulk Billed.  For all other Pensioners, Health Care Card Holders and Students over 16 there is a discounted fee for all consults.
We will also be sending SMS reminders to our patients about their up and coming appointments.  However, if you fail to attend a scheduled appointment without letting us know you may be charged a $35 cancellation fee.
---
Policies of Practice
Our policy is to provide the highest standard of patient care whilst incorporating a holistic approach towards diagnosis and management of illness. As a practice, we are committed to promoting health, wellbeing and disease prevention to all patients. We do not discriminate in the provision of excellent care and aim to treat all patients with dignity and respect.
Practice Accreditation
We are AGPAL accredited practice reviewed every three years to make sure we carry out best practices at all times for our patients.
Privacy Information
It is the policy of this practice to maintain security of personal health information at all times and to ensure that this information is only available to authorised staff members. Your medical record is a confidential document.